Are you going diving? Why you need to make sure you're medically fit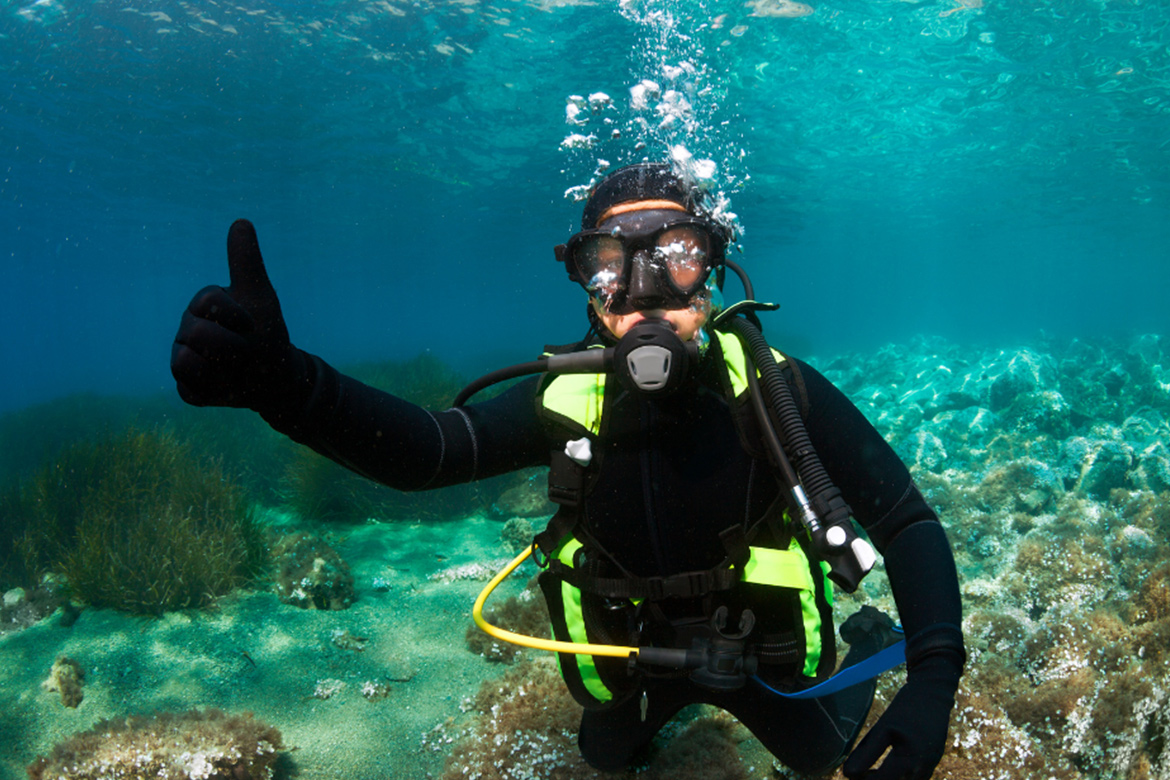 There's a danger attached to any water-based sport or activity, and diving is no different. Since diving has become one of the most popular pastimes in the UAE, it's important that all divers understand the risks and ensure they're at peak physical health before they take to the water. In this post, we're exploring the risks diving poses and how you can protect yourself from harm, by making sure you're medically fit.
What is a diving medical?
Anyone about to undertake a dive should get themselves checked over by a specialist diving doctor beforehand. Whether you're a seasoned professional or someone new to diving, the risks are the same, and a diving doctor will be able to assess whether you're physically and medically safe to dive.
A diving fitness test looks at a number of things, including medical, physiological, and physical fitness, as well as nutrition, knowledge, and diving skills. By taking this broad approach to your overall fitness to dive, a diving doctor can help you minimise the risks to your health.
What happens during my professional fitness to dive test?
A professional fitness to dive test normally takes around an hour to complete, because it is so thorough. The examining doctor will usually start by taking your personal details and looking over your diving log, if applicable, and any previous medicals you might have undergone. After that, they will conduct a series of tests, including a hearing and eye examination, a lung function test (known as spirometry), an ECG (heart monitoring), a urine analysis, and a short fitness test.
In addition, they may take a blood sample in order to check your sugar levels and if you suffer from lung-related condition, then a chest X-ray may also be conducted. If your diving doctor thinks follow-up tests may be needed, then they will schedule another appointment or refer you to the relevant medical practitioners.
What sort of conditions may affect divers?
For the majority of the time, diving is a fun activity and is increasing in popularity in the region. Most people will enjoy diving without incident, but things can go wrong, and it's important to be aware of some of the problems you might face when diving.
One of the most common problems doctors treat divers for is ear barotrauma. While you may associate ear barotrauma with flying, it can also occur under water. This is because the water hydrostatic pressure is compressing the air that divers have in their middle ear. The signs to look out for include pain and pressure in the ear on the descend, feeling of the blocked ear, and in some occasions, blood from the nose or ear.  If you recognise any of these symptoms, you must stop your dive, ascend, and seek treatment.
Another very serious complication from diving could be an arterial gas embolism, which is form of pulmonary barotrauma that leads a gas bubble to enter arterial circulation. This occurs when a diver ascends too quickly, causing nitrogen bubbles formed in the blood or tissue to block small arteries and cut off the blood supply. The symptoms include muscle or joint pain, blurred vision, chest pain, and an irregular heartbeat, with many people also experiencing feelings of anxiety and confusion. To reduce the risks, limit your dive depth and ascend slowly, whilst breathing regularly.
Periods of exposure to underwater pressure can have a significant impact on your body, which is why it is so important to ensure you're entering the water at peak physical health. By getting an all-clear from a professional diving doctor, you lower the risk of developing these and other serious conditions.
When and how should I get a fit-to-dive medical?
You should get a fit-to-dive test before you undertake any diving excursion, because the state of an individual's health can fluctuate for all sorts of reasons. A professional diving doctor will be able to take all factors into account when assessing whether you're fit enough to dive, and it gives you added peace of mind before you take to the water.
At Dubai London Clinic & Specialty Hospital, we have an expert, highly-qualified diving doctor on hand to offer fit-to-dive examinations. This comprehensive assessment will examine your physical and medical fitness to dive, and our consultant can offer advice on reaching peak health before you go diving.
To book an appointment or find out more about the services our diving doctor, Dr. Barbara Karin Vela provides, simply get in touch with us today.