Choose dental Invisalign braces from Dubai London Clinic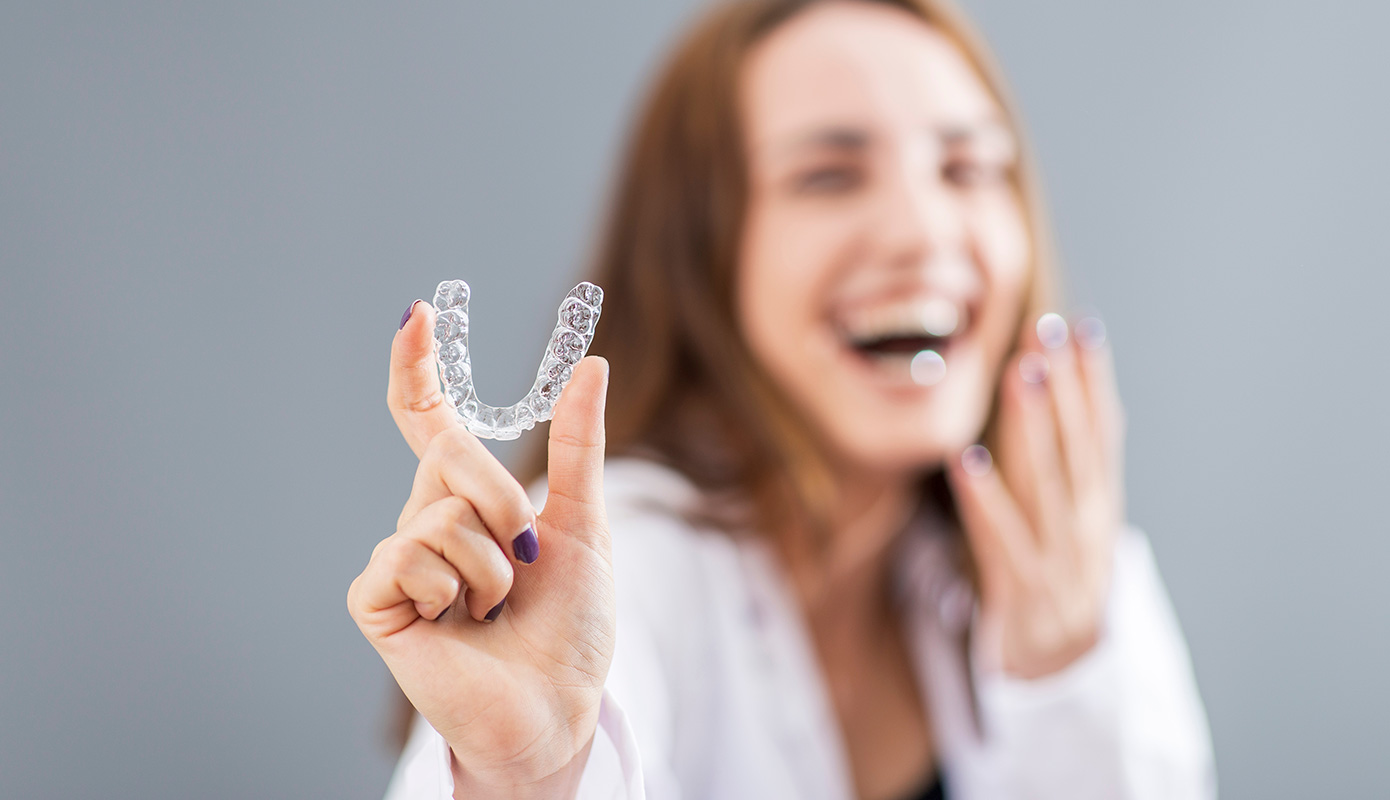 A lot of us are self-conscious about our smiles, which is why dental braces are often the simplest solution to achieving the perfect set of teeth. Invisalign braces are proving extremely popular among children and adults alike, because they help straighten out uneven teeth whilst being almost completely invisible, and immensely comfortable.
What are Invisalign braces?
Invisalign braces are a unique type of dental brace made using plastic clear tray aligners, so they are substantially less visible than standard braces. Invisalign braces are crafted using a 3D scan of your mouth so that they fit perfectly, applying gentle pressure to specific areas in order to pull together and straighten your teeth with almost no discomfort.
Because Invisalign braces are tailored to you, they're very comfortable to wear and cause minimal or no irritation. The clear plastic also means they're almost invisible at first glance, which is a unique advantage. Many people are reluctant to wear traditional braces because they are often very visible, while Invisalign braces are far more subtle.
Who should consider Invisalign braces?
If you're self-conscious about your teeth and the appearance of your smile, then you're far from alone. Many people have a crooked smile or gaps between their teeth, and a less than flawless smile can really affect your self-confidence in both your personal life and even career.
Sometimes aligners are the only route to go down if you want to achieve the perfect smile, and contrary to popular belief, it's never too late for braces. While braces are a common corrective treatment in children's dental work, adults can also be fitted with aligners to correct uneven teeth and bites later in life.
If your smile isn't what you'd like it to be, then Invisalign aligners are the ideal choice. A clear aligner not only does the same job as traditional metal braces, but it does that job unnoticed by you and by other people, achieving similar if not superior results.
What are the main benefits of Invisalign braces?
Invisalign braces really are an orthodontic miracle, and are proving an incredibly popular choice with children and adults alike. Among the many benefits to these braces are:
These are made from clear plastic, meaning they're less obvious than standard braces
Custom printed, tailor-made to suit the shape of your mouth, for a more comfortable experience
Made from high-quality plastics and materials leading to lesser pressure and pain
No dietary restrictions, which are essential with braces
Easy hassle-free brushing
Fewer emergencies and repairs needed than with wired braces
Less discomfort and irritation
Worn publicly by various famous faces, including Khloe Kardashian, Justin Bieber, Oprah Winfrey, Zac Efron and Serena Williams
While many people are self-conscious or resistant to wearing wired or coloured braces, Invisalign braces are the perfect alternative. Contrary to popular belief, it's not only children and teenagers who can be fitted with braces and retainers, but adults too. If you have uneven teeth in adulthood, then you can still see our expert Orthodontist about having braces and aligners to improve the appearance of your smile.
Invisalign braces are one of the fastest and most effective ways to correct your teeth, so if you're self-conscious about your smile and don't want to wear standard braces, then you might want to consider these clear aligners as the perfect option for you.
Why choose Dubai London Clinic for Orthodontic treatment?
Dubai London Clinic is already well established as one of the leading providers of dentistry in Dubai. We employ some of the region's leading dentists and oral health experts, who have amassed decades of experience between them and are top practitioners in their field.
Our Clinic is equipped with the very latest equipment and technology, allowing our specialists to carry out some of the most advanced dental work possible. In addition to our top dentists, we also have several hygienist dental nurses and other support staff, who are on hand to help with your care.
We pride ourselves on being one of the best dental clinics in Dubai, and our strong reputation and world-class service is what sets us apart from our competitors. When you seek treatment from Dubai London Clinic's orthodontics department, you can be confident you will receive the highest levels of patient care from the moment you step through the doors.
Invisalign at the Dubai London Clinic
Among our many specialties at Dubai London Clinic, our orthodontics department can fit you with Invisalign braces. You will be able to meet with our expert Orthodontist and discuss your needs with her in detail. She can then commission your bespoke Invisalign braces and see that they are fitted as soon as possible, so you can start the journey towards the Hollywood smile you've always wanted.
For more information on Invisalign braces or any other dental services provided by the Dubai London Clinic, simply get in touch with our Al Wasl branch today.